Functional boards - Windstopper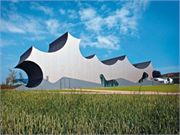 New standard
for windproof membranes in building
Windstopper is a special type of the functional board that featuresa windproof membrane. This sets a completely new standard for the ways in which fibre-cement board can be used to provide windproof and waterprooflayers in lightweight outer walls.
The Windstopper boards are made of grey cement and limestone filler, reinforcedwith a specially selected fibre material that can absorb and releasemoisture without affecting the strength or functionality of the board. This enablesmoisture from inside the building to pass through, which means insulationcan be placed directly against the inner surface of the board. These products are resistant to both rot and mould, and can withstand considerablefluctuations in weather and climate conditions. They have the additionaladvantage of being non-combustible.
Eliminate moisture problems during buildingMinerit Windstopper boards are made of inorganicmaterials. This means they are unaffected by the presence of moisture during building, and also once set up. This makes a big difference for professional usersby doing away with board damage caused by rainfallduring building and the resultant accumulationof moisture in outer walls. It also drastically reducesthe costs associated with covering up these walls while they are under construction.
Where to use
NEW BUILDINGS AND BUILDING RENOVATIONS - Windproof and Waterproof layerswithin outer walls
No need to cover up during building
Building site professionals are familiar with the problem of having to cover up parts of a building during construction, to protect against the effects of heavy or prolonged rain.
The Windstopper boards reduce this considerably because they withstand both rain and extremes of heat and cold.
These special fibre-cement boards are also ideal for use on building facades, providing greater durability due to a unique degree of resistance to the effects of both wind and moisture.
Easy to set up
Windstopper boards are easy to work with on site. Mounting the boards is straightforward because they can be cut and trimmed to size with great accuracy.
These boards can be mounted on frameworks and studs made of timber or steel, and can be screwed directly in place, with no pre-drilling needed. The Windstopper boards are available in several different sizes, and can also be specially orderedin other sizes for use in large-scale buildingprojects.
Comprehensive range of accessories
A wide selection of accessories is available for use with the Windstopper functional boards in order to ensure the best possible results.
---
Are you interested in this product? Contact us using form below or contact us directly on e-mail info@mrs.cz or call +420 545 175 844 or +420 602 707 001.