Passive house windows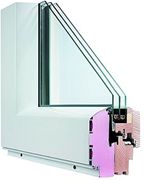 The new HOCOfuture passively - wood aluminum window of HOCO connects the natural, comfortable living atmosphere of a wooden window inside with the care ease and weather proofness of an aluminum window outside. The wood is protected by durable, everlasting aluminum bowl, on which a 62 mm thick foam panel is applied, against wind and weather. In addition annoying painting is void with aluminum, and you can be pleased over an extremely long life span of your windows.
The construction of the window was laid out in such a way that the window with that exhibits triple glazing a Uw-value of 0,80 W/m ² K. These values were certified by the institute for passive house DR.-FEIST, and are thus suitable for the installation into each passive house.
---
Are you interested in this product? Contact us using form below or contact us directly on e-mail info@mrs.cz or call +420 545 175 844 or +420 602 707 001.