Other lighting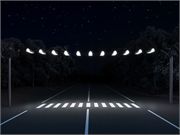 Lighting of Pedestrian Crossings
"See and be seen" is the principle of safe road traffic. One of the options of how to improve the safety of pedestrians at crossings in the evening and at night is the additional illumination of pedestrian crossings.
Busy pedestrian crossings are distinguished by the light colour, light intensity and directional character of lighting so that the pedestrian is illuminated from the car driving direction and is exposed in a great contrast against a darker background. The use of different colour and light intensity results in the accentuation of the crossing and the avoidance of blending it with a common street lighting.
Lighting of Tunnels
This highly specific type of lighting is subject to a number of international standards. Its design has to meet requirements of Czech technical standards and technical conditions that are derived from the international ones. It is desirable that the tunnel lighting is a part of the integrated technological equipment and is jointly controlled and managed. Hence, the lighting design shall already incorporate such a possibility and tunnel lighting systems are connected to the central control room.
For tunnel lighting, we offer:
Delivery of luminairs
Electric installation of the system
Management and maintenance
Revisions
Street and Park Luminairs
The luminair is a final element of the whole set of components constituting a public lighting system. It adds value to the whole system in terms of appearance and mainly functionality. The technical design of the luminair is important from the view of its installation, connection, subsequent maintenance and related costs and has thus a great impact on the economics of the whole system. The group manufactures and supplies a whole range of types suitable even for demanding architectural applications within the street and park luminairs product line.
In the product line of street and park luminairs, the manufactures and delivers a whole range of types designated even for demanding architectural applications. The luminairs meet light and technical requirements in line with the most modern trends.
---
Are you interested in this product? Contact us using form below or contact us directly on e-mail info@mrs.cz or call +420 545 175 844 or +420 602 707 001.