FW Pressure Systems - Process Equipment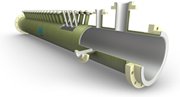 Process Equipment
The variety of basic materials which are used by us makes it feasible to support our customers with individual requirements and requests. The portfolio includes a wide range of common and complex designs which can be developed with GRP Composites Thermoplastics or pure GRP with or without a chemical protection layer. There is no limitation to shape, form and size and will be produced according to our regular standards (customer related standards are possible as well).
Scope of Supply
Nominal Diameter [DN]
25 - 4500 mm
Nominal Pressure [PN]
1 - 40 bar
Process Equipment
Pressure Equipment Directive (PED)
- Acid Regeneration Vessels
- Bio Reactors
- Chlorine Drying Towers
- Cyclones
- Ducting
- Electro Filters
- Scrubbers
- Storage Tanks for Chemicals
- Customized Shapes and Configurations
---
Are you interested in this product? Contact us using form below or contact us directly on e-mail info@mrs.cz or call +420 545 175 844 or +420 602 707 001.